Emrys Huntington has spent her artistic life exploring the space between images and language. Besides painting and sculpting, she teaches English (Language & Literature) at the secondary school level in the Netherlands. In addition, she coordinators the care and support for students with special needs. She graduated from Brown University with a double Bachelor's in Visual Arts & English Literature and from the Hogeschool Utrecht with a Master's in Special Educational Needs: Special Education Teacher, specialized in behavior. She remains interested in the stories that bring us images and vice versa.
Over the last 10 years, she has worked on a number of series about the influence of fears and dreams on the child's psyche within which dream worlds and the animal kingdom collide, earthly existence transforms into the mythological and the unknown suddenly offers new possibilities.
The focus in her work has recently shifted from childhood to adolescence and puberty and how the teenager's world revolves around the constant influx of digital images and information. Literature and especially poetry form sources of inspiration and an adequate juxtaposition to the digitalization of our world.
Member of the artist's collective Karmijn: https://www.karmijnkunst.nl/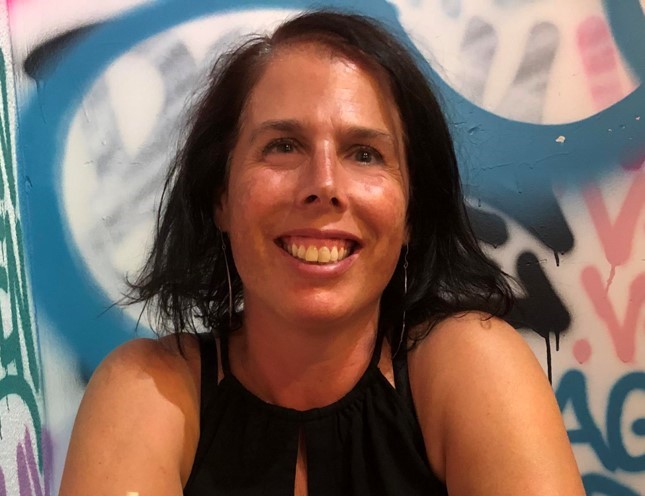 DUTCH
Emrys Huntington (1972) heeft haar leven lang de ruimte gezocht tussen beeld en taal. Naast schilderijen en beeldhouwwerken maken, geeft ze Engelse (literatuur) les op een middelbare school. Tevens vervult ze de functie van zorgcoördinator. Ze is afgestudeerd aan Brown University met een B.A. Visual Arts & English Literature en aan de Hogeschool Utrecht met een Masters Special Educational Needs richting gedragsspecialist. Ze is blijvend geïnteresseerd in de verhalen die ons bewegen tot beeld en andersom.
De afgelopen tien jaar heeft ze ook gewerkt aan een aantal series over de invloed van angsten en dromen op de kinderpsyche, waarin droomwerelden en het dierenrijk bij elkaar komen, het aardse bestaan in mythes verandert en het onbekende plotseling nieuwe mogelijkheden biedt.
Haar focus is recentelijk verplaatst van de kindertijd naar de puberteit en naar hoe de wereld van de puber draait om een constante stroom van digitale beelden en informatie. Literatuur en vooral poëzie blijven een inspiratiebron en zijn een goed tegenwicht voor de digitalisering van ons wereld.
Lid van Kunstenaarscollectief Karmijn: https://www.karmijnkunst.nl/