"Tablets Turned" (2021)
And What Spoke That Strange Silence After His Clamour of Caws Faded? (2021) SOLD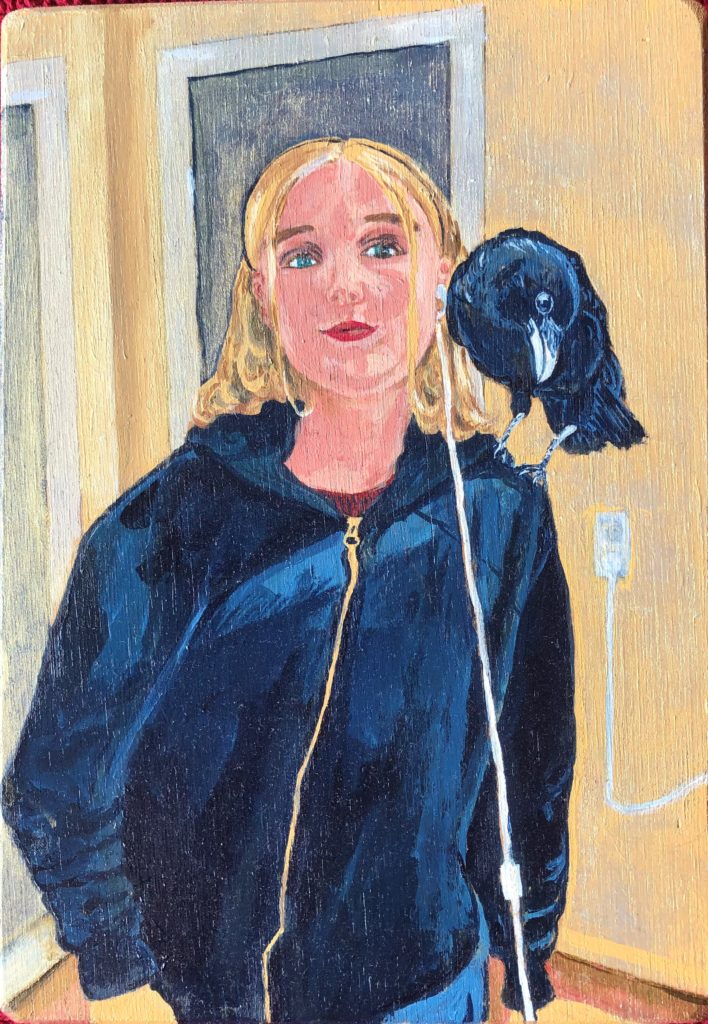 They Flash upon that Inward Eye, acrylic on wood (2021) SOLD
"They Flash upon that Inward Eye" is inspired by William Wordsworth's "I Wandered Lonely as a Cloud" which in turn refers to the myth of Narcissus. The prevalence of digital media in the lives of our adolescents creates moments of connection, isolation, inspiration and introspection. We have come into an age wherein technology has achieved epic and poetic proportions within the intimate space of a teen and their telephone. The implications of this new relationship will only be evident as this generation comes into maturity. My current paintings express this relationship between language and image, digital and analog
Selfie of a Lady, acrylic on wood (2019)
In reference to Part I of Portrait of a Lady by T.S. Eliot, "You have the scene arrange itself – as it will seem to do-"
Till Siri's Voices Wake Us, acrylic on wood (2019)

Inspired by T.S. Eliot's The Lovesong of J. Alfred Prufrock.
13 Ways of Looking at an iBird (2018)
Inspired by the poem Thirteen Ways of Looking at a Blackbird by Wallace Stevens, this triptych explores the relationship between analog and digital art and representations. The captions accompanying the images represent a digital age English adaptation of the original poem.
Recaptcha, acrylic on wood (2017)
This diagonal diptych is the first piece in a new series about digitalization, automation and compartmentalizing. This compartmentalizing is simultaneously the organization and the separation of image and spirit. Recaptcha refers to a computer system thar was designed to determine the user's humanity. Through this portal one proves one is not in fact a robot, even though at this point in time one's existence is completely intertwined in the digital world.
Door de overvloed aan digitale beelden is de natuurlijke wereld onwerkelijk of virtueel geworden. De grens tussen werkelijkheid, dromen en de virtuele wereld vervaagt. Het versplinterde uitzicht in dit schilderij toont een achtertuin en de heuvels van San Francisco, een stad gedomineerd door Silicon Valley. De schaal perziken, pruimen en abrikozen vormt het centrum rondom een gesprek over behoeftes aan fysieke schoonheid, technologie en dat wat ons voedt. 
"Preparing for the Masquerade," acrylic on wood, (2017)
"Water Lily Dragon," acrylic on wood, 120x60cm & 120x30cm (2016)
"Choosing Mythologies," acrylic on wood, 60x120cm & 30x120cm (2015)
Self-portrait, acrylic & leaves on wood, 120x60cm (2014)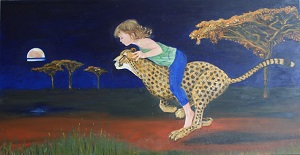 "Moonlight," acrylic on wood, 60x120cm (2014)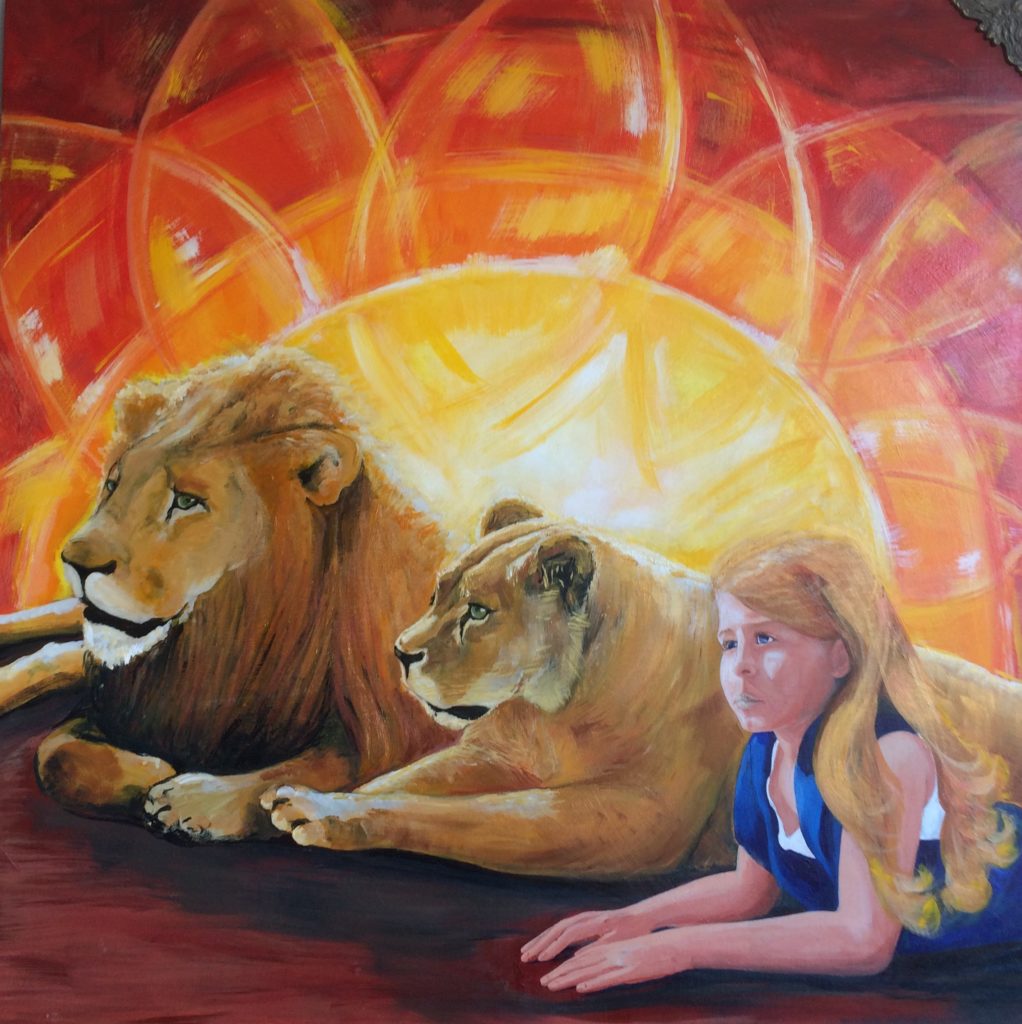 "Pride," acrylic on wood, (2013)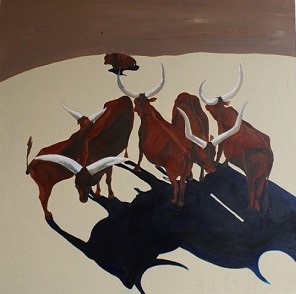 "The Herd," acrylic on wood, (2013)
"Les Enfants de la Nuit," acrylic on wood,(2012)
"View," acrylic on wood SOLD (2012)
Portrait of a Great-Grandfather and his Great-Granddaughters, acrylic on wood (2012)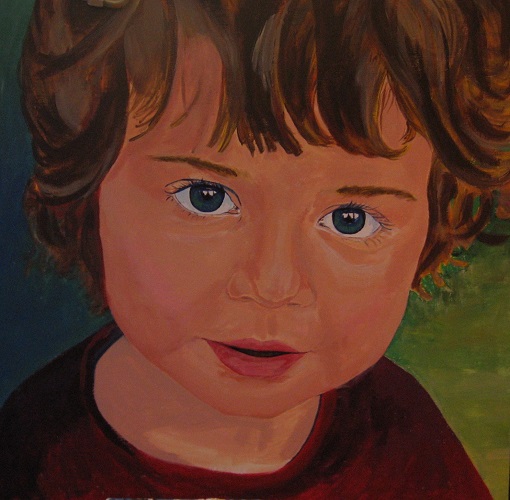 Portrait of my daughter, acrylic on wood (2011)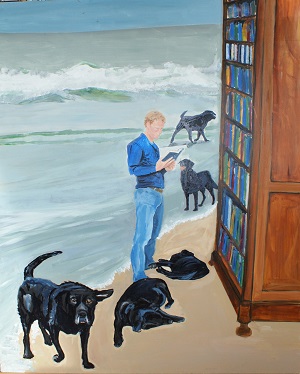 "Black Dogs," acrylic on wood SOLD